Kranjceva 12, 9226 Moravske Toplice
Terme 3000 is located in the heart of Prekmurje region, northeast of Slovenia. At Terme 3000 you will experience the beneficial effects of the famous black thermo-mineral water. Million years ago, the Pannonian Sea occupied this area and left healing thermal springs. These springs were discovered by serendipity while drilling for oil. The oil drillers believed that the springs were nothing more than plain hot water, so they close the hole and left. The curious villagers reopened the hole and they began filling their buckets with the black hot water. They soon found out that the springs have beneficial effects, and in the 1906's scientists began studying its healing properties.
Accommodations
Hotel Livada Prestige*****
Hotel Ajda****
Hotel termal****
Prekmurska vas**** apartments
Tourist village — chalets***
Kamp Moravske Toplice (campsite)****
Health Services
Healing resources
Black thermo mineral water from Moravske Toplice with specific therapeutic effects and freshwater pelliod from the Nevosko Jezero Lake
Indications
Degenerative rheumatism, non-articular rheumatism, chronic inflammation of rheumatic diseases (including psoriatic arthritis), recuperating from injuries and operations connected to the locomotor system with functional deficiencies, skin diseases (psoriasis)
Therapies
Hydrotherapy
Kinesiotherapy (group of individual)
Electrotherapy
Mechanotherapy (classic manual massage, lymphatic drainage and pressotherapy)
Thermotherapy ( paraffin wraps, thermopack, mud packs, cryomassage)
Inhalations
Acupuncture and;
Selective ultraviolet phototherapy
Programmes
Anti-stress and anti-rheumatism programmes
programmes for the prevention of osteoporosis
 weight loss programmes
preventive and relacation programmes
programme for neck and lower pack pain and;
programme for treating psoriasis
Sports and Entertainment
Over 25 outdoor and indoor pools
with natural black thermo-mineral and plain water
different swimming pools for children
a diving pool and water slides with special effects
sports park (artificial surfaces)
tennis
volleyball
handball
basketball
football
badminton
clay tennis courts
Recreation
trim trail
nording walking and cycling
golf course (with 18 holes not far from the complex)
offer for children (Viki the stork, an entertaining and mischievous children's mascot)
Wellness
150 different services in the Thermalium Wellness Centre  of relaxation beauty and wellbeing and a comprehensive range of Thai massages in the Livada Prestige Hotel in house Thermalium Collection line of care and beauty products (for care of very sensitive and irritated skin) Theramlium only here;
Natural thermo mineral baths and massages under the Thermalium brand, a diverse offer of massages;
Eve taylor aromatherapy
Ayurveda
Stone massages
Facial care
Hand and foot care
Anti-cellulite programmes
Concreto waterboard
And etc,
Additional Offer
Cuisine
The refurbished prestige restaurant at the hotel Livada Prestige (Quality Cup — Hotel, Restaurant and Tourism Assembly of Slovenia 2009)
New confectionery shop with a delicious house dessert
Traditional Events
Themed summer weekends in the Terme 3000 adventure pool compex
Ethnological evenings and the;
Festival of layer Cake and Prekmurje Ham in Terme 3000, Zarjada  (barbeque party)
Traditional summer night, etc,
Business Tourism
For events involving up to 110 guests at the Livada Prestige hotel and bigger events at the ajda hotel with 4 meeting rooms (for up to 130, 50 and two for 30 delegates)
Location on Map
Photos
Videos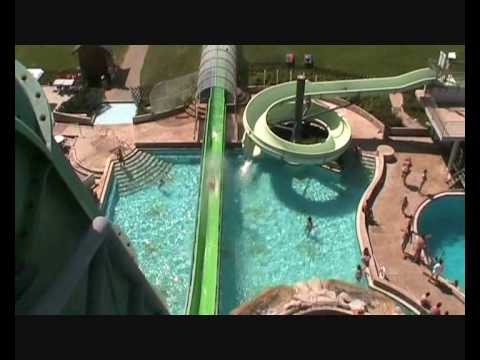 What people are saying about this Resort:
Terme 3000 is a perfect place to relax and enjoy in warm pools. There are many Jacuzzis in the pools and there are televisions. However, most of the channels are Slovenian; therefore this is a disadvantage to you if you do not know the language. There are snack bars around and we had a great service some a staff. Terme 3000 is the best place to stay for a family vacation on summer. – Keira
Reasons why you should choose this resort:
The beneficial effects of black thermo -mineral water
Over 25 different pools  and attractive water slides  (aqua loop)
Over 150 different wellness programmes
A golf course with the longest hole in Slovenia
Book Hotel Livada Prestige- The best hotel in Terme 3000!