Zdraviliska cesta 6, 3270 Lasko
Terme Lasko is located in the embrace of nature, above the Savinja and Reeica rivers. This health resort is perfect for recuperating, relaxing, and playing. This is almost located in the center of Slovenia, 11 kilometers away from the Maribor-Ljubljana motorway connection in Celje. Terme Lasko preserves its beauty from the past, with the new wellness center that creates surprising beauty of the present.
Accommodations
Hotel Zdravilisce Lasko **** 365 beds
Hotel Hum *** 54 beds
Hotel Wellness Park Lasko **** 180 beds
Health Services
Healing Resources
Thermal springs with temperatures from 32 to 34 degrees Celsius
Indications
recuperating from injuries and operations involving the locomotor system with functional loss
degenerative articular and non-articular rheumatism, especially problems with the spine, muscular and neurological diseases, stroke, circulatory system disorders
gynaecological diseases
cardiovascular diseases and skin diseases
Therapies
balneotherapy
kinesiotherapy
electrotherapy
thermotherapy
magnetotherapy
magnetic field therapy with laser
occupational therapy
Programmes
Therapeutic programmes

programme for lower back pain
programme for multiple sclerosis pa-tients
programme for hemiplegics
programmes for fibromyalgia patients and those with rheumatic diseases

Preventive Programmes

programme for a healthy spine, for maintaining health
programme for wellbeing through correct breathing

Restorative rehabilitation for paraplegics and persons with cardiovascular disorders
Sports and Entertainment
Indoor and outdoor thermal pools
splash pool for small children
children's pools and thermal centre below an attractive glass dome with 2200 cubic meters of indoor and outdoor water surfaces and numerous water attractions
massage pools
a cafeteria in the Wellness Park
and etc.
A sauna center with a diverse range of saunas and a fitness centre
Recreation
Yoga
Meditation
Chromorherapy
morning exercises in the gym
afternoon recreation in the thermal pool
Nordic walking
water aerobics
children's games in the aqua park
and etc.
Wellness
Beauty and Health Center, and Wellness Spa Center
beauty salon
various baths
massage parlor with numerous massages
Location on Map
Photos
Videos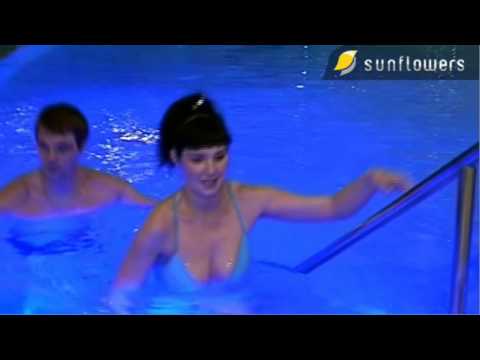 What people are saying about this resort:
This health resort is excellent in my opinion. This is a perfect place for couples, groups, and families who want to relax and get away from the outside world. This is a very quiet and peaceful place because it is located in the middle of a valley. This resort is also perfect for water sports, spa treatments, swimming, sauna, and steam. Highly recommended! – Carren
Reasons why you should choose this resort:
coexistence with nature, surrounded by mountains and rivers
a tradition of health and wellness with the power of thermal water
modern wellness park with a unique movable glass dome
Book Hotel Zdravilisce Lasko – The best hotel in Terme Lasko!